Decarbonization is the process of reducing greenhouse gas emissions, such as carbon dioxide (CO2), to mitigate the impact of climate change. Space-based data, supported by digital terrestrial technologies, can play a critical role in this process by providing information about the distribution and intensity of emissions, as well as the effects of climate change.
You didn't had the chance to come to the workshop we organized? But yet you want to contribute to our project? We invite you kindly to complete this survey :

Objectives of the Service
There is an unprecedented need to achieve sustainable, green, and inclusive economic growth to meet the challenge of decarbonizing our economies. Various actors, including governments, companies, and other organizations, have started to adopt emission reduction targets to achieve this goal.
There is an urgent need to establish space as a key pillar to contribute to the decarbonization challenge facing society.

This enabling study will help to understand the opportunities for space systems upstream (enhanced/new mission concept), downstream (space-based products/services), and/or the integration of new technological developments such as AI, IoT, Digital Twins for SatCom, SatEO, and SatNav in support of decarbonization and guide next steps on the most relevant priorities and topics to be addressed. It will provide context and the most urgent actions to be taken in the context of the Green Value and Sustainable Mobility Opportunity with an emphasis on energy and utilities, buildings, and food production.

Users and their needs
The study aims to engage the main greenhouse gas-generating sectors in terms of user groups and decardecarbonizations. It aims to identify the main investments planned in the sectors to support the green transition. The sectors of energy and utilities, buildings, industry, and food production will be analyzed in detail.
Decarbonization requirements in the food production sector include:
Reducing greenhouse gas emissions from agriculture and livestock farming

Improving energy efficiency

Reducing food waste

Promoting sustainable agriculture

Improving water efficiency

Implement sustainable sourcing
Overall, the decarbonization of the food production sector requires a holistic approach that takes into account the reduction of greenhouse gas emissions, the improvement of energy and water efficiency, the reduction of food waste, and the promotion of sustainable agriculture, packaging, and, procurement practices
Decarbonization requirements in the building, energy, and utilities sectors include:
Improving the energy efficiency of buildings

Shifting to renewable energy sources

Upgrading grid infrastructure

Promoting sustainable behaviour

Implementing smart technologies for buildings

Promoting sustainable design

Investing in energy storage solutions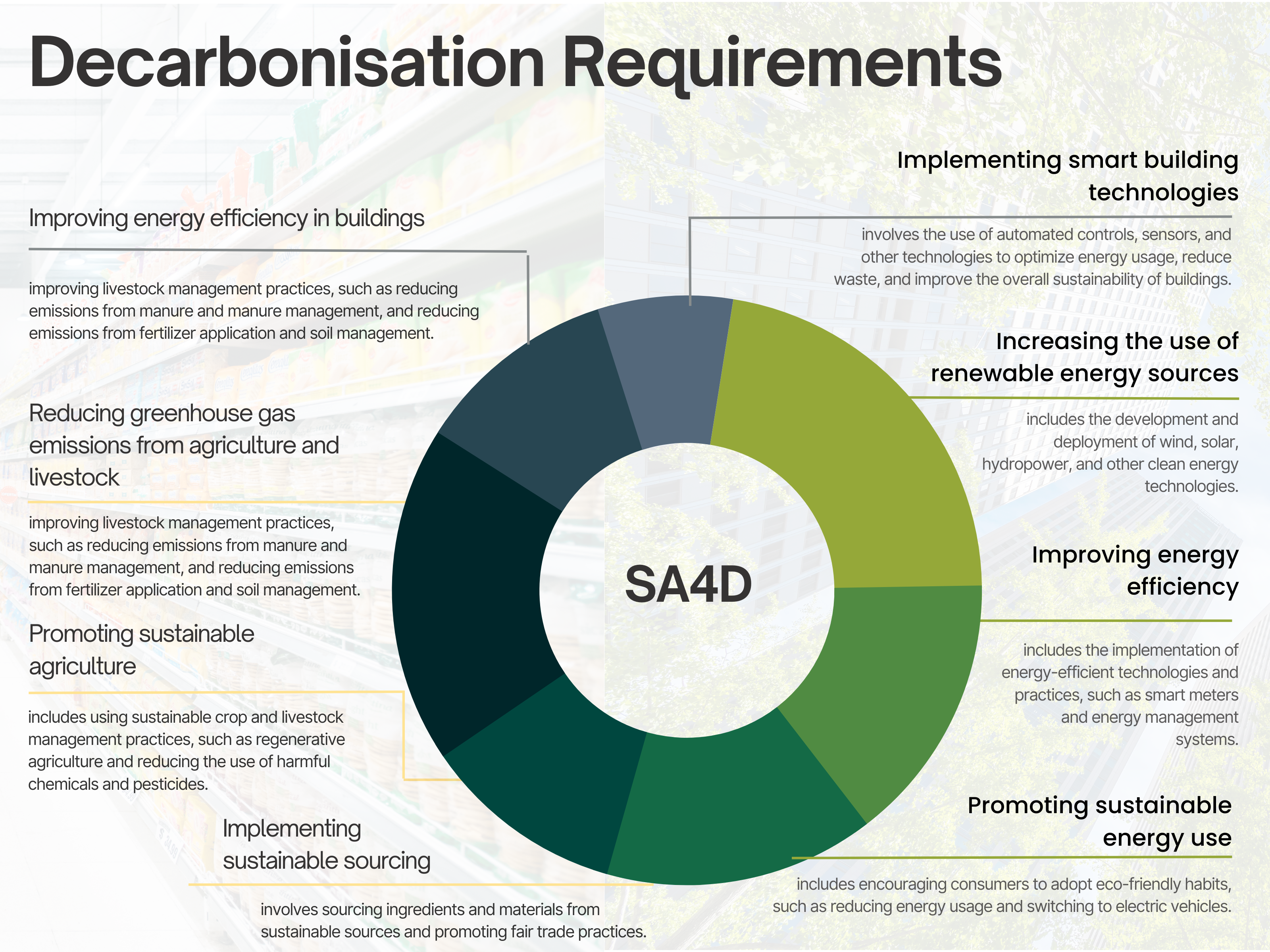 Service/System concept
The study will develop a roadmap for the implementation of the technical concepts in the short and long term.
This service and system concept will enable a comprehensive and thorough assessment of the potential of satellite data in the decarbonization process, providing valuable insights and recommendations to support decision-making and implementation.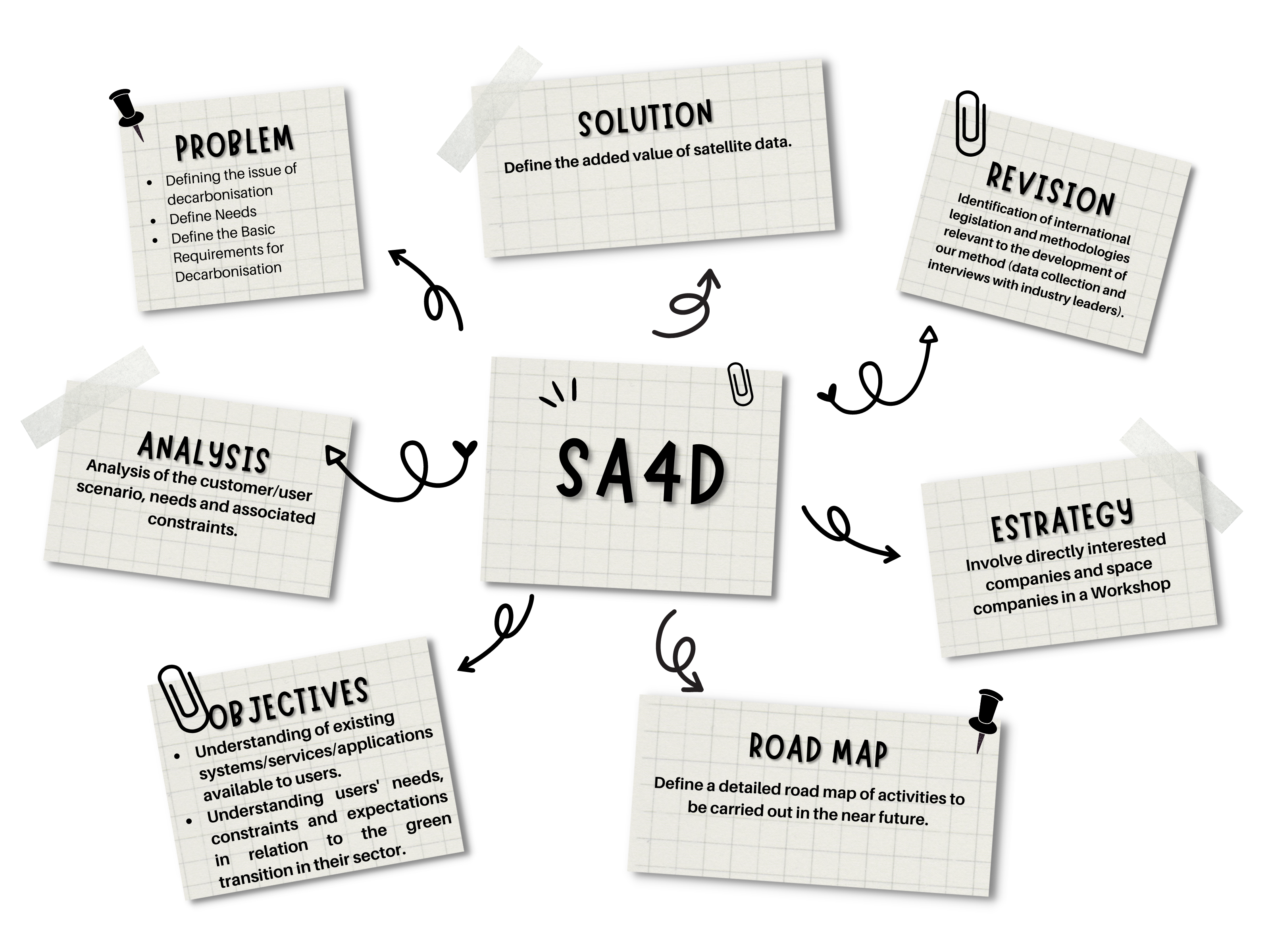 Space added value
Satellite data can provide valuable information for decarbonization, supporting the monitoring, evaluation, and, planning of various decarbonization efforts. Satellite data can generate added value for decarbonization:
By providing detailed data on the sources and distribution of GHG emissions, helping to identify areas where decarbonization efforts can have the greatest impact.

By supporting renewable energy deployment, through data on weather patterns and resource availability to inform the deployment of wind, solar, and, other renewable energy sources.

They can improve energy efficiency by monitoring the energy use of buildings, infrastructure, and, other assets, providing information on where energy efficiency can be improved.

They can monitor changes in land use and land cover, providing information on changes in land use and land cover, helping to assess the impact of decarbonization efforts on land use and ecosystem health.

They can support sustainable agriculture by monitoring data on crop health and land use, helping to promote sustainable agricultural practices and reduce the carbon footprint of food production.

They can monitor natural resource management, providing information on water resources, agriculture/forestry, and other critical ecosystems, helping to manage these resources in a sustainable and low-carbon manner.

They can generate climate models on the Earth's atmosphere and climate, improving the accuracy of climate models and helping to inform decarbonization efforts.
Current Status
The study was kicked off in January 2023 and it will run for nine months. A workshop on decarbonization have been organized on 17 & 18 April 2023 at the Euro Space Centre in Transinne, Belgium. Aimed at gathering needs and requirements, the workshop will be an important step toward the creation of a global plan to reduce greenhouse gas emissions and mitigate the impacts of climate change. The workshop aims to bring together stakeholders from the sectors (Food Production, Buildings, Energy, and, Utilities), including government agencies, the space industry, NGOs, and, the scientific community, to discuss the challenges and opportunities related to decarbonization.
Some of the main objectives of this workshop have been the following
Assess the current status of decarbonization efforts and identify gaps and challenges that need to be addressed.
Gather information on the data and information needs of stakeholders involved in decarbonization efforts.
Identify key areas where additional data and information are needed to support decarbonization efforts.
Identify opportunities for collaboration among stakeholders to support decarbonization efforts.
Overview of space-based applications for decarbonization.
Develop a roadmap for future decarbonization efforts that takes into account the needs and requirements of all stakeholders.
The results of this workshop could provide valuable input for the development of a global decarbonization plan and help ensure that efforts are targeted, effective, and well-supported by the necessary data and information.